Testimonials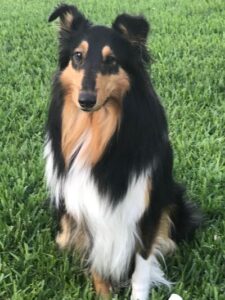 This is our sweet, beautiful, loving girl Arya that we got from Holmhaven Collies three years ago.  Lil does such an amazing job breeding these sweet-natured, smart and healthy Collies.  We love our girl so much that we added another Holmhaven Collie to our family a month ago.  This time we chose a tri-colored male.  They are the best!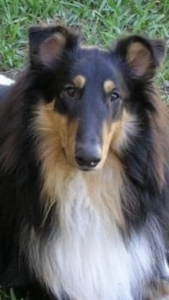 I want to thank you for the privilege of owning one of your dogs.  Bandit is my best friend.  He is everything you would want in a collie.  He is loyal, kind, obedient and loving.    Debra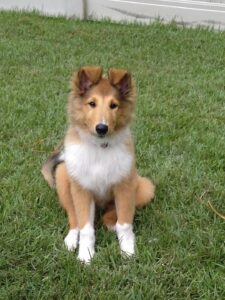 Jazmine is feminine, sweet, independent and intelligent.  She is our special little girl.  Jazmine's training is coming along wonderfully.  She enjoys the pool and is an excellent swimmer.   Collies are amazing in so many ways.       Janet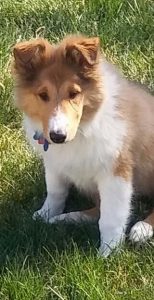 Savannah is very affectionate and loves to be stroked and get tummy rubs.  She loves to meet people, especially kids.  When she comes inside from the yard, she walks through every room to be sure all is well.  She plays so well with my other dog and is so patient trying to get her to take hold and pull for tug-of-war.  She is much-loved and a treasure to me.  It's what I was missing in my life.  Thank you, Lil, for breeding such excellent collies.  You put joy in so many people's lives.   Penny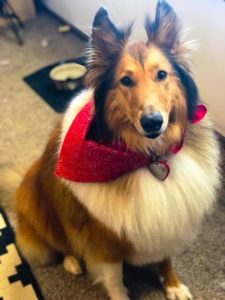 Shosanna is doing very well going into her 6th year.   She's as smart, charismatic, beautiful and sassy as ever – and has so many fans (both dogs and people alike).  Sho went to her first MLB baseball game this spring for "Bark in the Park" at the KC Royals – she was a huge hit and got her picture taken by the team photographer with the mascot.   She also went on a big road trip for our family vacation to Denver and Aspen this summer and loved hiking and prancing around getting attention from everyone she met.   Everyone that Sho meets loves her, and she is so very special and cherished every day.  Jessy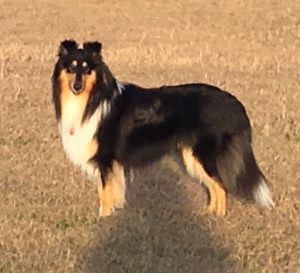 Remi loves to go to the dog park.  When he was a puppy, he loved to greet everyone coming in but then would quickly run off to play with his dog buddies.  When it was time to go, he just didn't want to leave.  What a job to finally get him in the car.  Yet this feisty but friendly, strong willed but loving puppy would grow up to be an observant, intelligent and very sensitive therapy dog, accompanying me to work every day to help with the special needs children in my grade school classes.  He seems to have a natural and genuine sense to help those in need – he really is a Certified Therapy Dog.                       Jennifer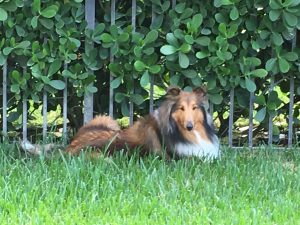 Splinter is doing great and is the best dog.  He loves to cuddle; I've never seen a dog who loves to be on top of his family like he does.  Even when he's just sitting on the couch, he has to have his paw, leg or head on top of one of us…usually me.  We just wanted you to know that he's doing great and he is so very loved!!  Michelle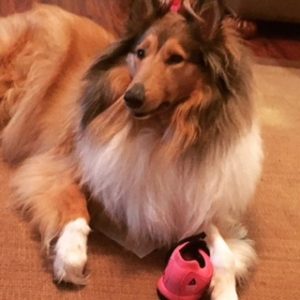 Alyx continues to be the sweetest, most attentive and loving dog we've ever had the pleasure of owning.  She is the hall monitor, the neighborhood watch (silently), the Christmas Tree guard and herder.  We can't thank you enough for placing Alyx with us when she needed a new home.  We will be coming back to you in a couple of years for another collie.   My husband still wants another tri female like he had as a kid.   Krys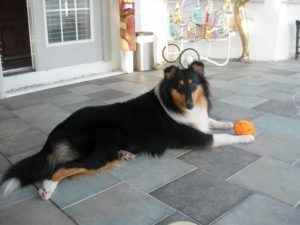 Thank you Holmhaven, for our beautiful, loving and sweet Collie.  Our Takoda is the center of our days.  I never had a dog – but, wow did I get lucky when we discovered Holmhaven and had this wonderful opportunity to bring one of your magnificent Collies into our lives.  My husband and I love her.  She is going on six years old, and from the moment we brought her home, her sweet disposition filled up our lives.   Gentle and so regal.   People stop me in the street when they see her to comment how exceptionally well-behaved and lovely she is.   She is our family, and we thank you for all that you do in giving your Collie owners like us so much joy.  We appreciate it.  Elaine and Larry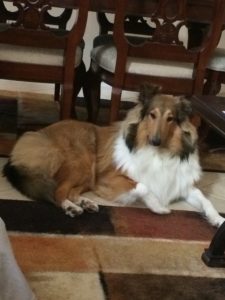 Loki is the most wonderful, amazing dog!  Aside from being so beautiful, he has the sweetest, most loving personality!  He loves going on walks and meeting everyone in the neighborhood and seeing all of his fellow puppy friends.   He is so well behaved when we have to leave him alone.   He has never chewed on any furniture or destroyed anything in the house, and he has been potty trained to go outside since day one!  I cannot tell you how much joy he brings into our lives every day.  Thank you for this wonderful addition to our family.   Loki means the world to us.   Jane and Andy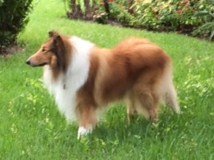 Teddy is smarter than most people I know.  He is a thoughtful watchdog and a good judge of character.  He loves everyone in the family, and they all adore him.   He loves music, especially piano jazz; he likes to stretch when he watches me do yoga.  He is patient and has a great sense of humor.  He's very expressive.  He enjoys our long walks twice a day, loves our neighbors and the neighborhood dogs.  He loves being groomed and enjoys being told how beautiful he is by everyone who meets him.   He is very happy and is the light of my life.  Mary Ellen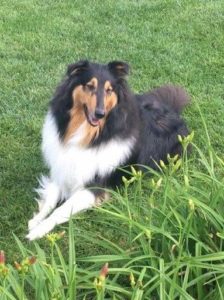 Every day on our walks or in the yard, the comment is constantly "What a pretty dog!"  When children visit the neighborhood, they often come over to see if "Graeme can play."  He is a wonderful loving ambassador of the neighborhood.   Thanks as always Lil for a lovely wonderful pet and friend.   Stephanie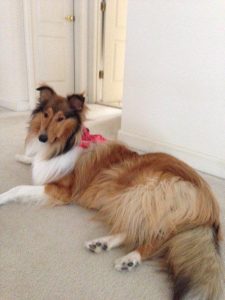 We can't walk down the street in town without a million comments on his looks and many children hugging and petting him.  Someone said he should run for mayor here.  We get the Lassie, and beautiful comments every few steps.   His calm and friendly temperament engulfed by swarms of people is just fabulous.  Alan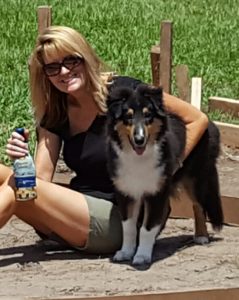 My boy Faber ***such a loveable, easy going guy.  This is my first collie, and I am over the moon in love with him.   He is so smart and a friend to everyone he meets.  I could not ask for a better friend.  Thank you Holmhaven for breeding such wonderful dogs.  Sheri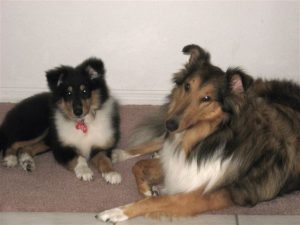 I couldn't have asked for a better temperament and intellect than what I found in the Holmhaven Collies!  I've had dogs my whole life, and never have any of those dogs from my past been as bright, quick to learn and the kindest of spirits and gentleness as Kaylo and Kiah! Tori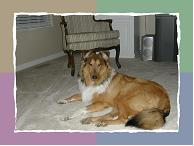 Our relationship started 34 years ago with Holmhaven, and they have provided us with so many memories of our three collies. During the years, we also had other dogs along with our collies. However, knowing how wonderful, gentle and smart the Holmhaven collies were, we longed to own another one. On April 30, 2006 our current dog "Duke" was born. Duke is now two years old and is a wonderful, healthy and lovable collie. Our other two collies lived to be 14 years old.
Holmhaven takes pride in breeding their collies, and anyone whoever had any doubts about collies should contact Lil Sayre. We feel even though we have purchased her collies, they will continue to be her family members! She has always been happy to hear how our collies are doing! Her relationships with her clients have always been very professional, and she is always happy to answer any questions. Our collies have been very intelligent, lovable and extremely well behaved with children and adults. The Cauls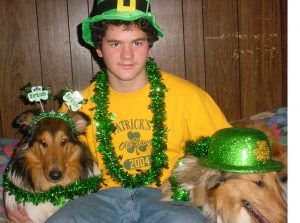 Maggie is doing great! But the thing that is so amazing about Maggie to us is how sweet and lovable she is. Maggie is so easy to control. I could go on and on, but you get the picture. Copper is maturing into a wonderful young man. He is a bundle of energy and begs for something to do. Leila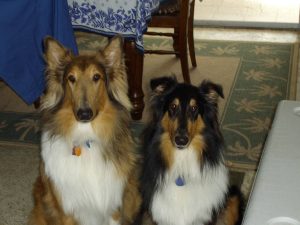 I loved my first Holmhaven collie, Essex, so much that I adopted her nephew Deacon three years later. Essex was my first dog, and Lil answered questions months after Essex came to live with me in 2003. Lil and the collies feel like extended family. My two help me cope with life's major and minor setbacks. For example, storm surge flooding caused by Hurricane Wilma in 2005 disrupted everyday life in Key West for several months. The daily routine of walking and caring for Essex prevented me from feeling overwhelmed. Essex and Deacon inspired me to write a "Key West Collies" blog in 2007. I found quite a few friends because of the blog and from them introducing me to people during our daily routine. My two Holmhaven collies have made my world a better place. Joe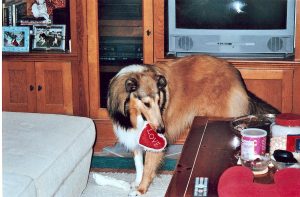 The week had been very stressful and crazy, like all others but more so because my husband was in the hospital with a kidney stone attack. Every moment of every day my life is controlled by caring for my elderly mother and now Ed, too. I crawled into bed, more emotionally and physically drained than normal. "Lord Trix" followed with one of his toys, wanting to play. I told him I was just too tired and started to cry. Trix hung his head down low, tail dragging the floor and left the bedroom. I could hear him rummaging in his toy basket, and about five minutes later he came running back in to me, wagging his tail, and he placed on the bed next to me his VALENTINE that has LOVE embroidered on it and he rested his chin on the bed with his ears back and just looked at me with his big brown eyes. Oh, I melted and started crying all over again, but this time out of total JOY…my dog is just filled with LOVE and EMPATHY. He sure does his breeder Lil proud. She raises the BEST COLLIES! I LOVE MY DOG! Dorothy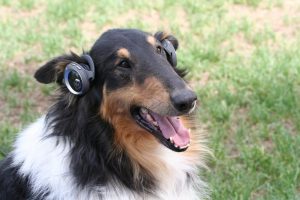 We own two Holmhaven collies, and they are fantastic dogs. Riley is six and Mollie is almost four. They are great family dogs and have wonderful personalities. Our collies love to take walks, go with us on horseback rides and relax with us in the evenings. Riley was the top of his class at obedience and agility, and both Riley and Mollie know eight different commands and tricks. The collies were easy to housebreak and train and get along well with everyone. We highly recommend Holmhaven's collies! Nick and Karen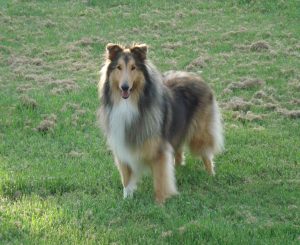 Madison was born on January 6, 2003. She is an incredibly beautiful collie, very sensitive and very smart. We are now empty nesters, and she has become the love of our life. She absolutely loves to snuggle and will do just about anything to please us. I don't know what we would do without her. Thank you, Holmhaven, for such an incredible pet! Jack and Judy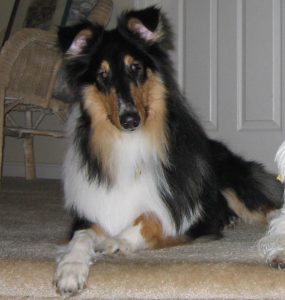 Thor is doing fantastic. Everyone loves him. He is so obedient. When our next door neighbor's dog got loose and ran into our yard, Thor herded him so he couldn't go anywhere, saving the neighbor a lot of grief and him running away. He loves his toys and always rings the bell when he has to go out. You are a superb breeder. Pat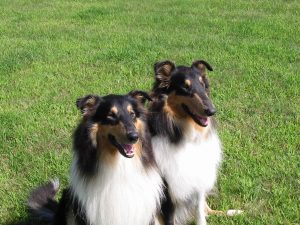 Our two tri-colored collies from Holmhaven are truly the most beautiful dogs I've ever laid eyes on. When people come to our house and meet them for the first time, they can't stop gawking at their beauty and good manners. They were very easy to train, as they so much want to please.
I wanted to give my children the experience of growing up with dogs. Mickey and Crombie are very protective of all of us and take being a good dog very seriously. We just love them more than words can say. Jennifer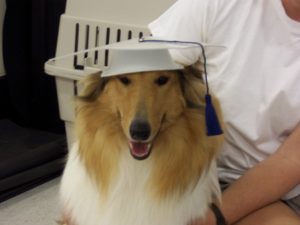 Growing up in Montclair, NJ, my sister and I were lucky enough to live around the corner from Holmhaven. On our way home from school, we would stop by to visit the dogs. Mrs. Holm would set up the jumps so we could watch the dogs do their "tricks". Years later while on vacation, we visited Holmhaven again now in Florida. Once again, as gracious as ever, Mrs. Holm let us visit the dogs. I have never forgotten those collies.
Now with a family of my own, we decided to add a collie to our family. Of course, we called Holmhaven and soon our first Holmhaven tricolor male, Tampa, arrived. Thirteen years later, at eight weeks of age, along came Bonnie Pearl. Gorgeous and smart as can be, she was nicknamed her obedience group's "Class Valedictorian". One of these days, I am sure another Holmhaven puppy will be on its way. Marsha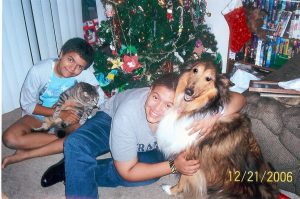 Draco has been a part of our family for eight years, and everyday he has shown us what true love and kindness are. My daughters Stephanie and Karina have been diagnosed, one with Asperger's Disorder and the other with Central Processing Disorder. It has not been easy for them, but they laugh and cry with Draco. He understands when they had a hard day at school or just need to talk. He will sit and listen and then try to make everything okay. He has shared birthdays and holidays, sad times and happy days. Draco even likes to check on us every night by going to each bedroom to make sure we are safe and protected. Lil is not just a breeder but also part of our family. She still emails us and writes to us asking how we are doing. If you decide to get a collie from her, you are sure to join a family with friends to last a lifetime. Cynthia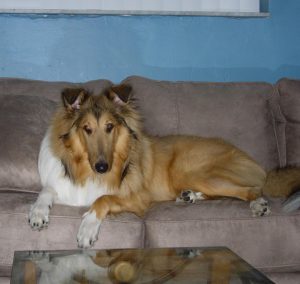 Hunter is our third collie and our first from Holmhaven. Our next collie, without a doubt, will also be a Holmhaven. He is gentle, sweet, loves to be groomed and is great in every way possible. As a dog massage provider, I bring Hunter with me to lots of dog events. I always say he could be a therapy dog for dogs. He lets puppies and small dogs jump on him and bite him. At the same time, he is calming to the dogs that are hyper or nervous. He also stays right by my side and just smiles. I look forward to my next Holmhaven Collie. Thank you so much for bringing Hunter into our lives. Hope and Steven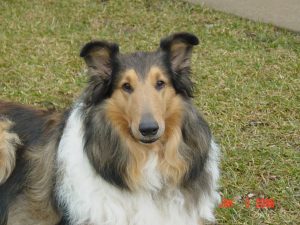 Marcy is just a wonderful dog. I swear she speaks English. When she wants to say no, she pokes you with her nose. It is just too funny! When she wants to say please, she gives you her paw. She is truly a great friend. Friends come and go in your life, but a collie lives forever in your heart. Holmhaven Collies are that special friend that will remain truly special in your heart! Marcy is bright, beautiful, soft at heart and loving. I can't say thank you enough for my wonderful friend. We love her so much!! Randall and Renee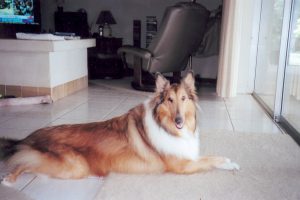 Although we have had four collies, and they have all been wonderful, our present Lassie is the most loving. When she was just a puppy, I would sit on the couch to watch T.V. and hold her in my arms. Now that she is fully grown, she still thinks she is a puppy and does her best to put her whole body in my lap. We just love her to pieces, and she returns that love every day. This picture shows how she lays down all the time, with her hind legs straight out back and her front paws crossed. Bill and Peggy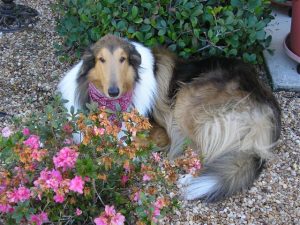 We got Lexander "Lexie" from Holmhaven the second he was old enough to come home with us, and we were amazed that he was already potty trained and knew basic commands at that young age. Lil has kept in touch with us from day one and keeps us up to date with any important information about collies. It is very comforting that we have her extensive knowledge available and can contact her if we have any questions, though Lexie is very healthy and has not had any issues in the six years that we have had him. We have other animals at home, and all are drawn to him and have picked up many great qualities from him. Lexie is super smart, extremely well behaved, divinely humbled, very loving, loyal and gorgeous. He always gets lots of compliments!!! Collies are beyond amazing, but Holmhaven Collies are perfect. Susan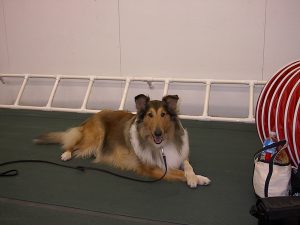 I waited 14 years to get a collie from Holmhaven because I had other dogs in my life at the time. My Holmhaven collie, Lassie, was well worth the wait. She is one of the smartest dogs that I have ever had. She certainly has been the easiest dog to train and has the most mellow temperament of all the dogs that I have owned. Lassie has earned titles in temperament, Canine Good Citizen and AKC Rally. She will be earning more titles in Rally and will become a therapy dog soon as well. Lassie is also the mother of two beautiful girl puppies named Dixie and Belle. Lassie, Belle, Dixie and the puppies' father, Rex, will be staying with us at our home in Virginia. I can't say enough wonderful things about our Lassie. She really lives up to her name. Hazelanne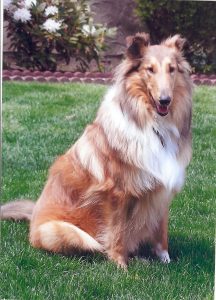 HAPPINESS IS HAVING A HOLMHAVEN COLLIE. Our relationship with Lily and Inga Holm began in 1966. Over the past 42 years, we have had six of their collies. We would not go anywhere else. They are so smart, have a wonderful temperament and are very obedient and healthy. Lil does a terrific job. Bonnie is our sixth Holmhaven collie. She was born April 6, 2006. She is so sweet and very friendly, the love of our life. We call her the Mayor of the neighborhood because she knows everyone, wants to visit with all our neighbors, and the children just adore her. We have so many wonderful memories from all our collies and of Holmhaven and Lil. We would heartily recommend Holmhaven (and we have done so) to anyone who wants a beautiful collie. They are truly the best, and I can't say enough about Lil for the job she does in breeding and training collies through the years we have known her. We really love her like family. Ed and Alice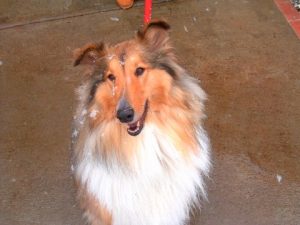 We got our Valentine's present on February 14th of 2005 when RJ was born at Holmhaven!!! He is a wonderful, loving and very smart dog. We can't say enough of how Lil Sayre raises her pups, and they are all smart, beautiful dogs. When you receive your pup, he or she is potty trained already and arrives clean, well fed and ready for your family. We were so happy with RJ that we just got Princess Destin in May 2008, and both RJ and Princess share the same parents. They are like a team now and are different in many ways. She is a beautiful tri-colored five-month-old very curious and sweet dog, and they are the joy of our lives. Thank you, Lil, for your great breeding skills. You would love your puppy. Beverly and Bryant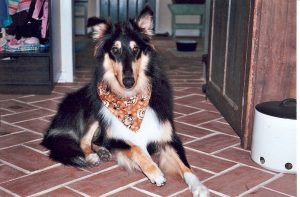 I have to tell you how much we love Callie. She is the best dog. She is smart and calm and extremely intuitive. She just seems to know who wants her attention and who would rather be left alone. We can't say enough nice things about her and, in fact, just today my husband commented on what a good job you had done breeding her. So thank you, once again, for taking such care with her. We couldn't wish for a better dog. Ellen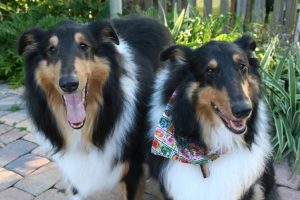 We found Holmhaven when we were searching for a dog for our grandson. My daughter and I had collies when we were young, so we knew that was the perfect breed for a child. What we didn't count on was how exceptional the collies from Holmhaven are! We ended up with two brothers, Mac and Tavis. They are true family dogs; they alert me if he is doing something they feel is unwise (like running up the slide instead of going down). They rarely bark, so when they do, you pay attention. When people come to our home, they love these gentle dogs that greet them at the door (behind their owner) and then lay down. They are loved throughout the neighborhood and a favorite at the veterinarians. We feel so blessed to have found Holmhaven and these two wonderful companions. It is difficult not to add to our pack! Robin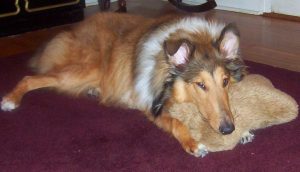 Our Katie is now 10½ months old and is a wonderful addition to our family. She adjusted to her new environment very quickly and was very easy to housetrain. Besides her beauty (which everyone notices wherever we go), she has such a sweet disposition. The students I teach at my house adore her. She is extremely intelligent and knows exactly when it's time for the children to come as she patiently waits for them at the front door. In addition, she's very healthy and active. Katie enjoys taking walks, playing with my daughter's pilates ball (she pulls the handles and moves it all around the yard), and riding in the car. Thank you, Lil, for giving us this beautiful, intelligent, and above all affectionate puppy! We love her very much! Pat and Sue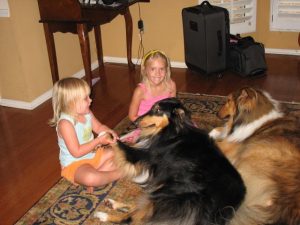 I grew up with collies, and we always had more than one. When we lost our 16-year-old dachshund, we decided to find a breeder and get a collie. We found Lil and Holmhaven through the Collie Club of America, and we are very thankful for that. Auggie was our first collie from Holmhaven, and Lil made sure we had pictures of him as he grew big enough for us to take him home. When we picked up Auggie, we were also asked to pick up one of his brothers who was going to a family near us. During that trip, I think my husband decided that we should have more than one collie, so a year later we were back at Holmhaven to pick up Maggie. People always stop us whenever we have Auggie and Maggie out in public. They just rave about how beautiful and well behaved (most of the time) they are. Auggie has become the guardian of our granddaughters and has been instrumental in teaching them how to behave with other dogs. Whenever anyone asks where we got our dogs, we always recommend Holmhaven. Lil, you are the best! Maureen and Larry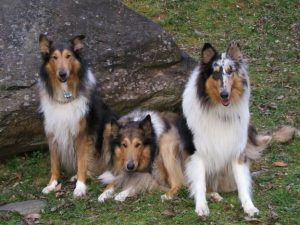 Our first Holmhaven collie was Chandler, and what a beauty he was! Intelligent, kind and loving, he was a gorgeous sable collie who won our hearts and left us shattered when we lost him at three years old. Unfortunately, we trusted the word of a veterinarian that a monthly heartworm medicine wouldn't hurt him, but that is the only thing we did differently, and we lost our precious boy way before it was time. We didn't want to come home to a house without Channie, but we didn't want to go through that pain again either, so we decided that we wouldn't get any more dogs. Lil had other ideas and asked me out to her place where puppies were just waiting to be loved. We fell in love with two mahogany sables, Corey and Charlie, and brought them home. Boy, did they change our lives from mourning into laughter, and they have been doing that for almost ten years now! They are as much a part of the family as anyone. So much so that they caused us to change our lives to accommodate them in our many trips to Tennessee by buying a cabin so they could stay with us. They are happy if we are happy, at the beach or in the mountains, they just want to share in whatever we are doing. Then about three years ago we added our fourth, a blue merle boy named Bullet. He has completed our family and blended into our little collie society nicely. Such loyal, trustworthy friends are hard to come by, and having a place like Holmhaven to pick out your own special pup makes for a wonderful experience! Ronda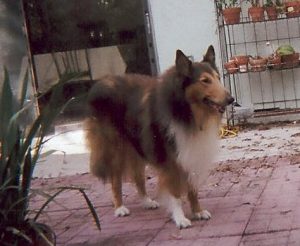 Wally is our second collie from Holmhaven. His gentle, empathetic nature adds so much to our home. With three children, we never had to worry about his disposition with them or their friends. The kids are all grown now, but he is genuinely overjoyed when they come back to visit. It is as if his sheep have come home. He is a dog who "feels" your heart. One time I was on my knees praying by the bedside, and he put his forelegs on the bed and joined me in prayer! The absolute truth—I promise! We love and appreciate this great dog from Holmhaven Collies. Colleen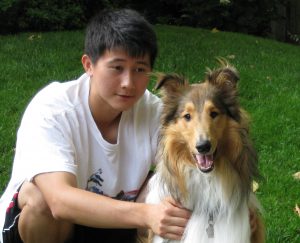 We adore our Adonis. He has the sweetest personality, and he's really a good boy. The whole family is very happy with your service and the puppy. Clifford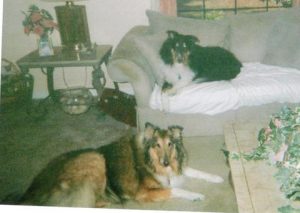 Buddy and Maggie are truly sweet and care about one another very much. They love to learn together. When one sees the other doing something new, that one wants to get right in the action. You are a wonderful breeder and willing to take my calls and are so kind over almost ten years. I wish we could have more. Marilyn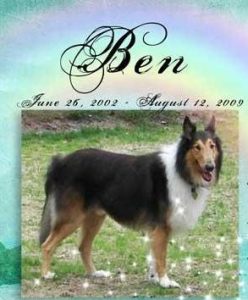 Ben has been the most wonderful dog in the world. He brought so much joy and laughter to our lives, our life has forever changed because of him. Ben was unique and definitely had personality. We always call him our "social butterfly." He loved people and other animals. He has left this hole in our hearts that will never be filled. Claudia and Lou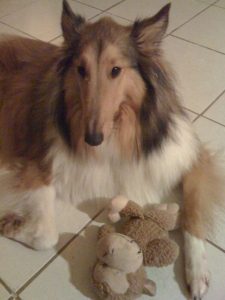 My mother has been a fan of collies for years. We've never had a dog before, and for my mom's retirement gift I decided to get her a collie. I did extensive research about the breed and breeders, and that's how I found Holmhaven Collies. Business with Holmhaven was very smooth. Ms. Lil was great communicating with us, answering our questions and sending us weekly pictures of the puppies. Lupita was born on February 8, 2008. She has brought so much happiness to our household. She's very sweet and smart. She likes to play with her toys and loves to run in the yard. She's great with all of the different aged members of our family. Elizabeth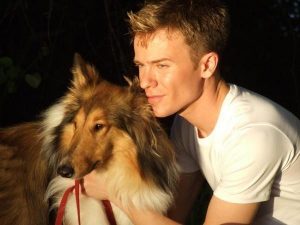 Scout is my wonderful collie that I adopted from you guys a few years ago. I absolutely love him….Can't imagine life without him! Jason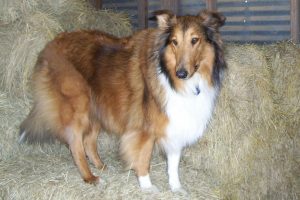 Opal has her CD and Rally Novice. She lives with us in the house but does work all over the ranch. When I had a fainting problem, I would pass out, and Opal would open my mouth with her paw and lick the back of my throat to wake me. She taught herself to do this and wouldn't leave my side until I was all right. One time she saved my life when a rattlesnake was ready to strike at my stomach. Opal came from around the back of me and struck the rattlesnake before I knew what was happening. Another time she saved the life of a mini stallion who was tied to a post. He fell and was hanging by the slip knot around his neck. Opal pulled the slip knot, and the stallion was up by the time we got to him. Opal has done so many things that I have not seen in other dogs, but her courage above all is by far what makes her who she is. Angela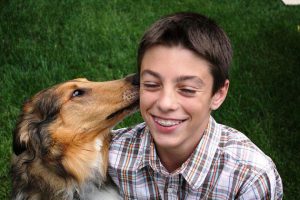 Zack is just a wonderful dog through and through. He loves the kids. I have had dogs all my life, but none that compare to Zack. He has the sweetest disposition and is very intelligent and well-behaved. He is a daily source of joy for our whole family. Julie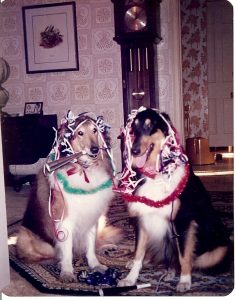 My first dog was Holmhaen Bonnie Lass, CDX. She lived to be 13+ and was a very special gal – she protected our pet rats, our cat, and was the best traveller by car or plane you could ask for. While I was at work, my elderly paraplegic friend fell to the side in his wheelchair in the backyard. Bonnie barked in her 13-year-old hoarse bark until his wife came out and rescued him. No one taught her that, she just knew he needed help. I have had Holmhaven Collies since 1974. They are true collies in character and heart and loyal to a fault. Sally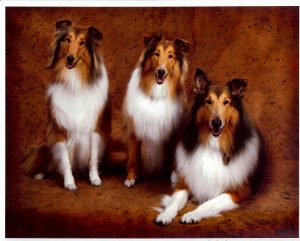 Our two youngest girls, sisters Bree and Belle, are the most well-behaved dogs. Bree is the adventurous one, as you said, and Belle is incredibly sweet. She very contentedly cuddles with Karen at night. Our Shana, as ever, is the sweetest, most wonderful dog, but of course, she was the reason we got Bree and Belle. If you will recall, Lil, I asked you to give me two more like Shana, and you certainly did. Les and Karen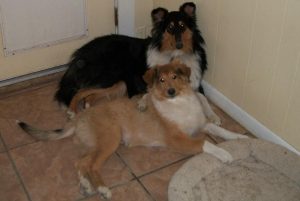 Jade and Dylan are our second and third Holmhaven collies. They are so beautiful inside and out. I have had dogs my entire life. Holmhaven collies are by far the easiest to train and so willing to learn. The more I work with them the more they want to learn. We have tricks for treats time and Rally/Obedience time. This is our special time together. They are so loving and loyal, we are very lucky to have them in our lives. They always know what I am thinking. They are both so much a part of our lives. When we talk to them, they cock their heads and seem to answer back with all the right answers. Everyone who meets them loves them and is impressed by their mannes and kindness. It shows what a good breeder Lil is. She has always been very helpful with any questions I might have. Angela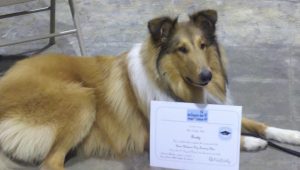 This is Brody's graduation picture from basic obedience class. He is a wonderful dog, so sweet, very smart, loves people and learning. He is happy, healthy, and we all adore him. Thanks for our wonderful boy. BJ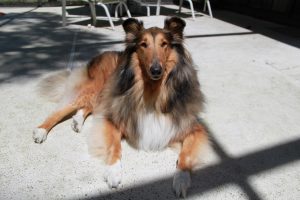 Here's Gracie on her fifth birthday. Can't believe she's been with us for five years already. She is such a sweetheart. Everyone who meets her loves her. We love her to death. Maria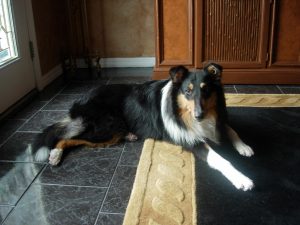 I don't know if I thanked you enough for the great dog you gave us. She is my friend and my best collie ever. In my life I have had three, always female tri-colors. Elaine loves her to death. You breed a great collie, and I hope you do for many more year and make more people happy with a great dog. Takoda is a CLASS ACT, loving, caring and just our friend. Thanks to you and your breeding. Larry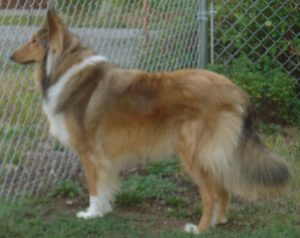 This is Holmhaven Lady at the Gate (Linde), the beloved, my joyful, mischievous collie. She is healthy, loving, beautiful and smart, thanks be to God, Leila and you, Lil. She came to me as an answer to a dream and has become a heart-companion, a comfort and an inspiration. Thank you so much. Barbara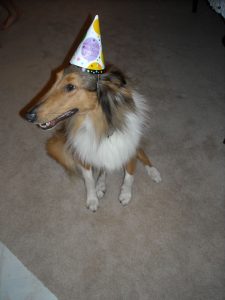 Since today is our wonderful puppy's birthday, we wanted to check in with you and give you an update. Clobex has adapted very well to his life with us. He was an energetic and good-hearted little puppy and is growing up to be a wonderful dog. We socialized him early and often, and today Clobex gets along beautifully with people and animals. He is extremely friendly and loves being petted by strangers. Clobex is also a very smart dog. He learns tricks quickly and remembers them. We are so happy with our new family member! Jonathan and Amy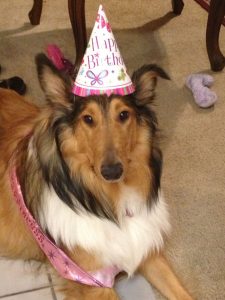 We wanted to let you know that our beautiful girl is doing well and that we ADORE her. She is everything we wanted in a dog and more. She is smart, sweet, beautiful and so well behaved. Even people who don't like dogs fall in love with her. Today is her first birthday. We wanted to send you a picture of her and let you know that she is being well taken care of and she is VERY loved. Thank you! Danielle and Jordan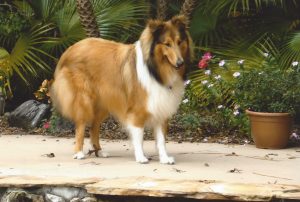 Oliver is thriving. He is just a wonderful and loving guy. We spend a lot of time with him since we're home all day and it shows because he is so well behaved, smart and just the love of our lives. He's about 75 pounds, and he's been healthy and happy. Mark and Erin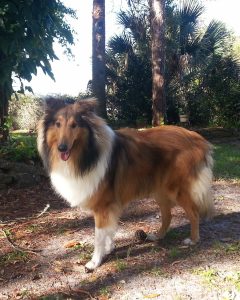 With Mac's first birthday coming up this week I thought I would send you a message to let you know how great he is doing. We couldn't be happier with him. He has a great personality, and I don't think that there is anyone that he meets that he doesn't like. I can't say enough good things to describe Mac. I love coming home after a day of work to Mac; he makes whatever problems may have happened that day just seem to go away. Mac is truly a joy for me to have, and I am so happy that I found Holmhaven. Thanks for such a great dog. We appreciate him every day. Greg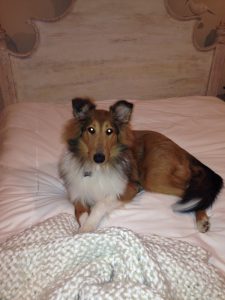 Hudson is doing wonderfully. She loves everyone, even cats! She has brought me so much love and happiness.  She is smart, beautiful, loving, sweet, has an amazing personality, great on the leash, quick learner, gets along great with other dogs and people.  She is my best friend!  And Hudson only barks  to alert me that someone is at the door.  I really like that Hudson doesn't bark a lot because I have read that some collies are huge barkers.  She is very playful and she and my sheltie, Sailor, love to play.  I love her more than any person. She is my shadow, and her tail is always wagging. I thank God for bringing her to me every chance I get. Tanya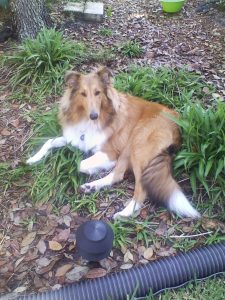 Theo is such a large part of our family. I want to thank you for loving collies as much as you do and raising such beautiful, intelligent and loving animals. Ed and I say every day that we are so happy we found Holmhaven. Thank you. Rose and Ed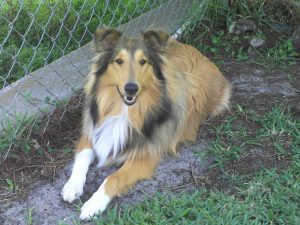 We have been blessed with our Maggie Mae. She is such a smart and loving addition to our family over the years. She is still healthy and strong. It is good that you carry on your line of collies because you make many families happy when they come get their new bundle of joy. It's funny how Maggie talks with people who enter our home. She really tries to communicate with people. She is so loving and is a great protector. She loves and I mean loves children. Keep up the good work!!!! EJ and Tim